The popular vote for our Project of the Year is great for a number of reasons, but personally I love it for getting off the hook. How could we choose a winner? It's too much responsibility with so many awesome solar projects worthy of recognition.
But again, after counting the votes, I'm always like, "Well, what about this one?" ! … And man, that other one was so awesome! At that point, I remember that I am the editor and that I can do whatever I want. So …
Welcome to the 4th Annual Solar Builder Editor's Choice Awards! We're no solar pros in the field, but we write about dozens of solar projects every week at solarbuildermag.com. We get a feel for what is quite routine and what is unique or notable. The following projects were nominated for our Project of the Year awards, did not win the popular vote, but captured our collective editorial attention – everything from notable assignments to subtly cool problem-solving, impact on the community or just a breathtaking performance.
Thanks again to everyone who participated in this year's awards. The race for next year's winners begins now.
Better construction

american kings | Lemoore, California | 170 MWdc
Developer: Rabbitbrush Solar LLC | Entrepreneur: McCarthy Building Companies | Modules: Premier Solar | Inverters: TMEIC | Assembly: Nextracker
Located on 945 acres between Los Angeles and San Francisco, the American Kings Solar Power Plant has just 400,000 Series 6 modules installed on-site and involved 34 central inverters, 66,000 DC string mini-circuits, over 149 km of electrical wiring and just over 5,000 tracking lines. These numbers are remarkable because, from a project execution standpoint, American Kings was one of the fastest built solar projects ever built just over nine months after start-up – despite the hurdles of a pandemic. global and continued government shutdowns that affected shipments of materiel from different parts of the world nearly two months behind schedule. During the summer of 2020, the project site also experienced significant smoke and air quality issues due to the California wildfires. The McCarthy team proactively planned the impact on the construction schedule and developed work rescheduling approaches to ensure the project was completed on time.
Better land reuse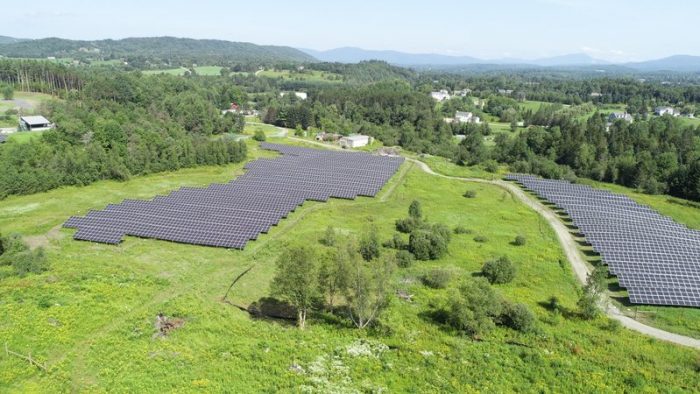 Salvage yard | Morrisville, Vermont | 3.3 MW
Developer: Encore Renewable Energy | Entrepreneur: iSun | Modules: ET Solar | Inverter: CPS | Assembly: RBI solar
Encore Renewable Energy has converted a former auto salvage yard into a solar project, providing renewable energy to the local utility. Landowners will remain on lands that have belonged to their families for generations, as the operational solar project offers both an annual rental payment as well as the means to complete the environmental remediation required to achieve the regulatory closure of this former one. family car salvage business. ease. The soil under the solar panel has been seeded with a pollinator-friendly plant cover to support the vital habitat of bees, butterflies, hummingbirds, moths and other insects critical to future food security. Additionally, pollinator-friendly soil cover increases carbon sequestration, improves soil quality, reduces stormwater runoff and returns stormwater to underlying aquifers, while taking into account the social importance of support healthy food systems.
Problem solving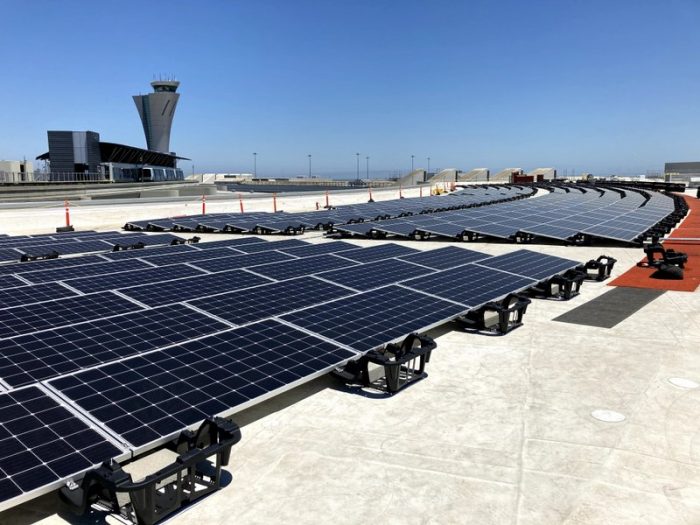 OFS Terminal Harvey Milk | San Francisco | 1.34 MW
Developers: Hensel Phelps, Redwood Electric | Modules: GCL | Inverters: SolarEdge | Editing: Sollega Inc.
The ballast / hybrid solar photovoltaic flat roof racking installed at the new Harvey Milk (Terminal 1) at San Francisco International Airport was tricky for two reasons. The azimuth of the array was analyzed in relation to runways and approaching aircraft to ensure that glare would not affect their landing and take-off. A third-party engineering company specializing in glare studies was asked to conduct a study and determine the layout of the network that would ensure the safety of approaching planes. Hensel Phelps and Redwood Electric then had to find the right shelving system that would follow the design of the curvature and handle the corrugations of the roof. Ultimately, each subnet is tilted slightly to appear curved when viewed from satellite images. The PV contributed to the LEED Gold certification of the terminal.
Best partnership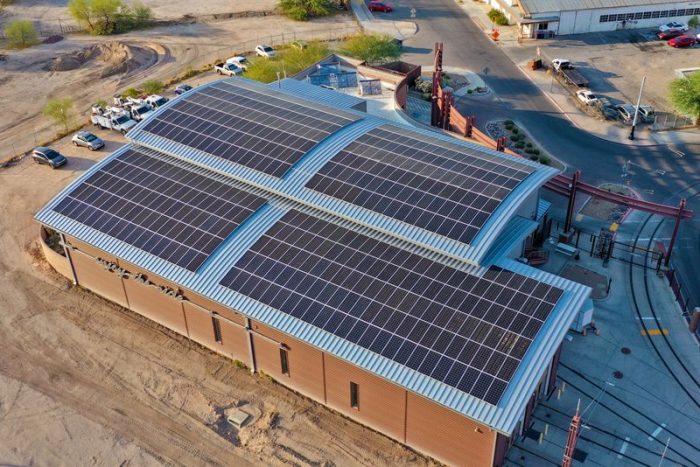 Sun Link Transportation Center | Tucson, Arizona | 163 kW
Developer / Entrepreneur: SOLON Corp. | Modules: JA Solar | Inverters: CPS | Fitment: S-5! and IronRidge
The Sun Link Streetcar connects five unique neighborhoods in Tucson, Arizona, including downtown and the University of Arizona. SOLON provided the city with an aesthetically pleasing curved roof-mounted solar panel to match the roof and shade from the scorching Arizona sun to reduce air conditioning bills. Not only will the solar system look great, it will generate over 6.5 million kWh of electricity over 25 years and the city of Tucson will save over $ 500,000. But, best of all, it was just one of the 48 projects SOLON produced in partnership with the City of Tucson. Talk about impact!
The coolest carports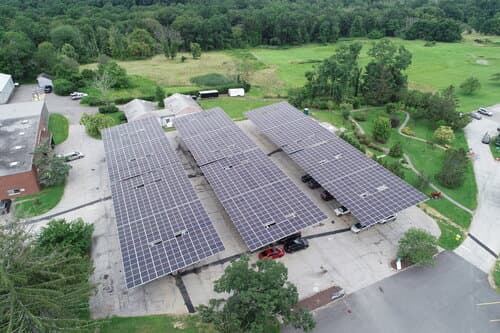 Maryknoll | Ossining, NY | 873 kW
Developer: Ecogy Energy | Entrepreneur: GreenSpark | Modules: Talesun | Inverters: SolarEdge | Carport: renewable energies of quest
Ecogy Energy's Maryknoll project includes 12 parking canopies with bifacial solar panels, covering two different parking lots on the campus of Fathers and Brothers Maryknoll of Ossining, a Catholic order of priests and brothers. The system is also the first community solar system in Ossining and the largest canopy in Westchester County, New York. The development of this community solar system provides solar power to Maryknoll and more than 70 households in Ossining, 15 percent of which are members of an affordable housing community. All subscribers receive 10 percent bill discounts. The carport networks will also provide the campus with covered parking for northeast winters, parking lot lighting for added nighttime safety and security. It is also a very visible green initiative. Additionally, carport solar panels do not increase waterproof surfaces as they are built over the existing concrete parking lot, reducing water runoff.
Stand out from the community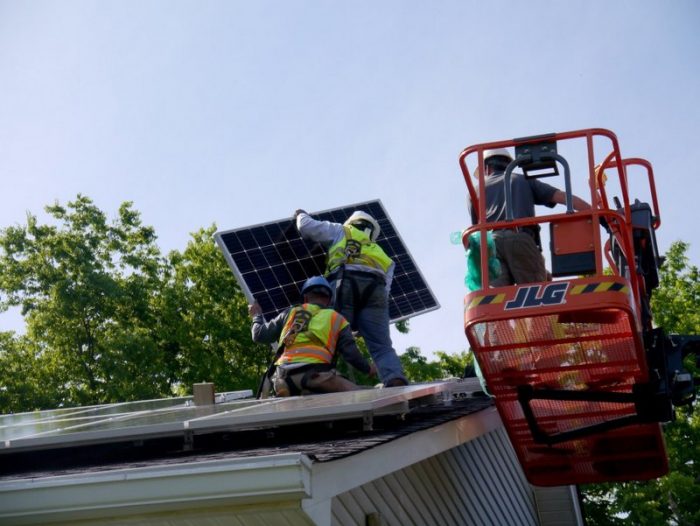 Stocking Carney | Nashville | 7 kW
Developer: BayWa re | Entrepreneur: Jason Carney | Modules: JA Solar | Inverters: SolarEdge | Storage: LG Chem Assembly: Quick Mount, Unirac
There is no better way to bring solar energy to a community than to sow it directly in their backyard. Jason Carney and BayWa have teamed up to develop residential rooftop solar power for a community garden in an African American community in Nashville, Tenn. – a district which does not have solar energy on the roof. This is important, especially in communities of color, to help maintain energetic wealth in the community. A sign at the community garden solar site educates passers-by about residential solar power and provides contact information so they can begin their own solar journey. The 7kW system will save the homeowner $ 21,700 in electricity, but the benefit of this project goes much further as the garden provides fresh fruit and veg in a food desert. BayWa provided excess inventory for the project which consumed space and money on the shelves. Carney identified the opportunity for the project and installed the solar panels with additional support from Sydney Talbert Construction for labor and electrical support.
Have you visited our YouTube page?

We have a ton of video interviews and additional content on our YouTube page. Recently we made our debut Power forward! – a collaboration with BayWa re to discuss higher level industrial topics as well as best practices / trends for running a solar business today.
Our longer term side project is Field – in which we have delicate discussions with manufacturers and suppliers of solar energy about their new technologies and ideas so that you don't have to. We discussed everything from fixing railless residential bridges and financing home solar power, to stacking the value of large-scale energy storage and new solar and storage micro-grids for homes. new homes.
We also publish our Project of the Year announcements there! Interviews with this year's winners will take place starting the week of November 8. Head over there and subscribe today to stay up to date on all of this extra stuff.
Tags: BayWa re, CPS America, Ecogy Energy, Encore Renewable Energy, ET Solar, First Solar, Greenspark, IronRidge, JA Solar, Jason Carney, LG Chem, McCarthy Building Companies, Nextracker., Peck Electric, Quest Renewables, Quick Mount PV, RBI Solar, S-5 !, SolarEdge, Sollega, SOLON Corporation, TaleSun, TMEIC, Unirac